Why do we recommend Torx Head Woodscrew when you need to attach plywood volumes to the climbing wall? Also for plywood volumes manufacturing, you would also need this type of wood screw.
Under what circumstances, you would need a Torx head wood screw? Well, there are thousands of situations, but as a hardware supplier for the climbing wall industry, we only focus on its application in climbing holds/volumes production and climbing wall construction. So basically speaking:
You are making a plywood volume.
Below pictures show where you would need those screws.
Attaching the volumes to the climbing wall.
We all know the climbing volume is attached to the climbing wall by threading M10 or 3/8" screw to T-Nuts in the climbing wall. (There are T-Nuts installed in both climbing volumes and climbing walls)
At the edges of the volumes, you may see the screw-on spots, in this area, the T-Nuts are not available, so you would need the screws, drill the screws into the climbing wall surface. It can prevent a larger volume from spinning.
Some replacement job.

The spot drilled on the climbing volumes is the weakest part. The M5 Volumes screws inserts and M5 Torx Head wood screws are a perfect solution to expand the plywood volume lifetime.
Of course, in any of the above situations. A Phillips head wood screw can also be used. Why do we recommend Torx Head wood screws (Star Head wood screws)? As per feedback from clients and the market, our Torx Head wood screws have those characteristics and brings valuable benefits like below:
The Torx grooves provide strong rotational force, making installation easy and effortless. It would save you much time, especially for a big project.
The head has a specially raised rib underneath to scrape the wood, ensuring that the head is flush with the surface of the plywood after installation.
Excellent raw materials with guaranteed strength. Meet the construction requirements of the climbing walls and other wooden structure buildings.
A special beveled knurling design has been added between the bare rod and the thread, with the aim of increasing the reaming effect and facilitating the smooth buying of the head into the surface of the mount, while reducing the possibility of cracking of the plywood.
The cut end design on the tail tip allows the screw to cut through the wood fiber instantly, eliminating the need for pre-drilling holes in the wood panels of the climbing wall and significantly improving construction efficiency.
As you may find out, every design detail shows our dedication. To provide the customer with the best possible solution. This is not an ordinary Torx Head wood screw you see mostly from the market.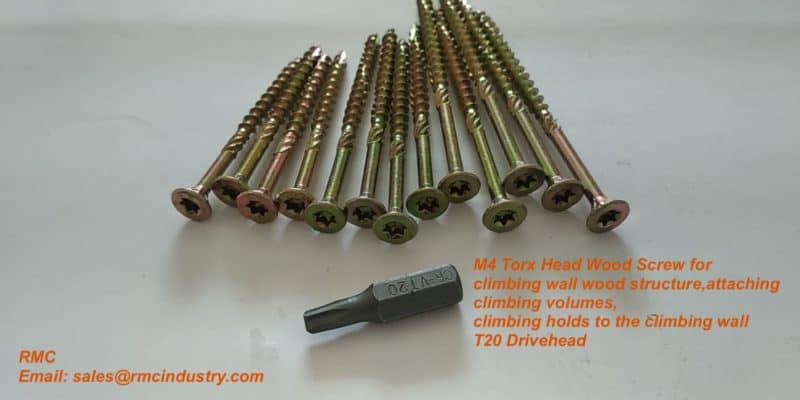 If you are looking for a better Torx Head wood screw for your climbing volumes/wall production. Contact us now!
Good cooperation terms are guaranteed.